This can be Your first consent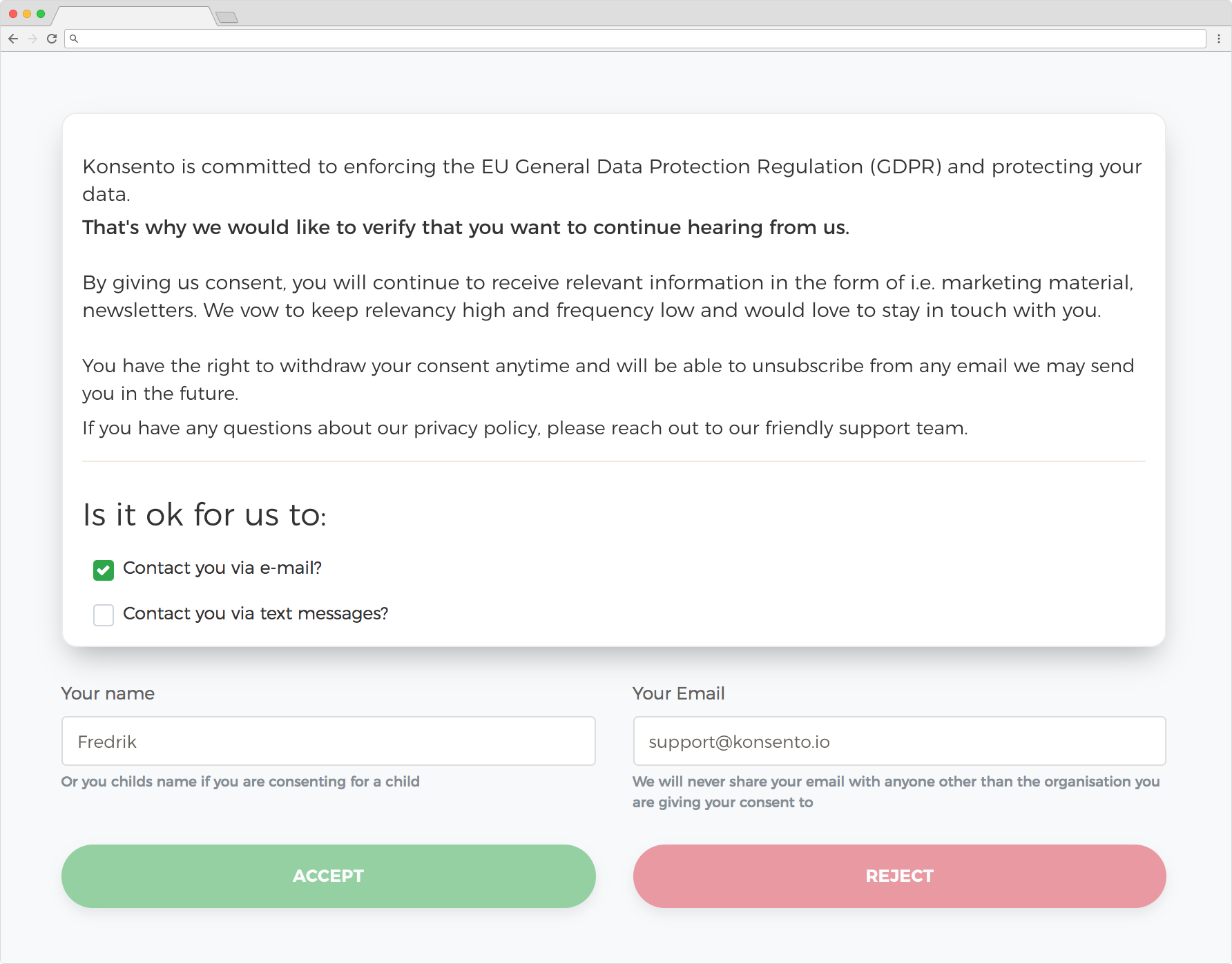 "We educate several hundred students per year and we want our communication with the students to be as effective and clear as possible. With GDPR we needed to adjust how we manage personal information in our business.

Thanks to Konsento we can manage consent from our customers in a quick and easy way. We no longer have to handle wrinkled paper forms and our customers can easily give their consent through Konsento's cloud based service with digital agreements.

Our students like to have photos of them posted on social media channels such as Facebook which requires us, as a business to manage it in the right way. Thanks to Konsento we can!"
Linda
Lantz trafikskola i Helsingborg och Höganäs
(Driving school in Sweden)
Why do I need a Consent Management Software
One of the most important changes with GDPR is to have a lawful basis to store and process personal information, one of these are consent. Having a consent management system in place will simplify your consent management.
Collect Consent
Making it easy for you to collect & record consent from your customers and users. Send consent invites from Konsento or integrate with your existing systems such as Hubspot or Mailchimp - add custom data to make it even easier to track your consents.
Consent Lifecycle
You will stay on top of your consents using our web portal, you can search for consents using advanced filters and can even add your own custom data to every consent. Get notified whenever a consent is about to expire or is withdrawn.
Consent Experience
You can control the consent experience using our powerful Consent as a Service API. You can collect consents in your own app and use Konsento as a centralized consent repository. Search, filter and update consents via API calls.
"We created Konsento because we believe that managing consents should be easy for anyone to do, either via API or using a web portal. We have more than 30 years experience from the financial industry so if you have strict security requirements, we can deploy Konsento in your own private cloud."
Fredrik Burman
CEO
Consent Management - Made Easy!
Konsento makes it easy for you to comply with the increased requirements for consent and comes with advanced features that are easy for anyone to use.
Send out consent invitations using e-mail and collect consent directly from the mail or from a user friendly, branded consent page.
Give your users & customers control of how you use their personal data by adding granular consent options.
Define for how long a consent is valid and keep your consents up to date by getting automatic notifications when they are about to expire.
It's really easy to find consents - by adding your own custom meta data to each consent. You can search and filter using our API or our web portal.
Continue using the tools you love - We are integrated with Hubspot that enables you to build dynamic contact lists based on the status of the individual consents.
Do you want your consent e-mails to look like they are coming from you? You can easily send out consent invitations using any e-mail tool (for example Mailchimp) that supports "user merge variables".
Pricing - from €0.05 / consent
There is a €199 one-time setup fee which gives you access to our support team that will answer any questions you have and help you get up and running with Konsento in the fastest way. It also enables you to send consent invitations from your own domain.
This fee does not have to be paid if you are registered non-profit or sports club.
Need to manage more than 100,000 consents?
Contact us for a custom solution for your needs.
Do you have stricter security requirements?
It is possible to deploy Konsento in your own private cloud. Contact us for more details.
Cloud based web portal or API,
what suits you best?
Konsento.io helps you manage consents in compliance with GDPR, you can use our advanced tool in two ways:
Online Web Portal
The fastest way to get started is to use our mobile friendly web portal where you can manage all aspects of the consent experience. Our reporting tool helps you to stay on top of your consents and your customers can easily withdraw their consent as easy as they gave it - thus helping you with your GDPR compliance.
API
Do you want to control the consent experience for your customers? Do you need to fetch consent statuses from other internal systems? Then you should use our powerful "Consent as a Service"-API.
With the help of the API you can tailor make the consent experience for your customers and use Konsento as a centralized repository for all your consents.

LEARN HOW TO USE OUR API
Do you need a custom solution?, Contact us we would love to get in touch with you.